COVID-19 updates
Your browser does not support javascript.
Coronavirus:
Help within the Walton community is available.
Check out the news page and the social events page for details.
The Brampton Acting Together (BAT) help desk is available 24/7 on 016977 41070. Phone them for advice about help that's available nearby.
Details of the support offered by the Brampton Area Action Group (BAAG) can be found on this leaflet (pdf).
A poster with advice and other national and local helplines is available to view or download.
COVID_19 Carlisle Newsletter - Issue 2 is available to view or download.
The SHINE group is also offering help with food and other essentials.
Recycling centres reopen 12 May. Restrictions apply.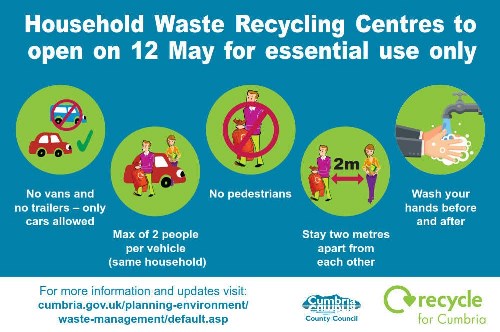 Due to the current situation with Covid-19, the Parish Council has activated a High Consequence Infectious Disease Policy which can be viewed on the website.
At the moment, all meetings have been suspended until further notice and we are awaiting instruction on the auditing of the year end accounts as this is also currently under review.
The Clerk can still be contacted as normal by phone - 016977 3382 or email - waltonpc@hotmail.co.uk
Stay safe everyone.