Welcome to Our Website!
Your browser does not support javascript.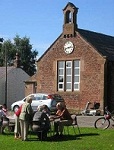 The historic and picturesque Parish of Walton lies 10 miles from Carlisle and 3 miles from Brampton on the River Irthing.
The Parish Council consists of 8 parishioners from a wide variety of backgrounds who meet every two months in the Village Hall.
The next meeting of the Walton Parish Council will take place on Tuesday 13th September 2022 at 7:00pm in the Village Hall.
This website is provided by the Parish Council to inform parishioners and other interested parties of the work the Parish Council is doing and is a supplement to the noticeboards and parish newsletters. We are always interested in parishioners' points of view; please contact us if you have any comments on either the work we do or our web site.