Welcome to Our Website!
Your browser does not support javascript.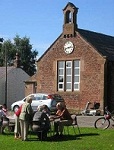 The historic and picturesque Parish of Walton lies 10 miles from Carlisle and 3 miles from Brampton on the River Irthing.
The Parish Council consists of 8 parishioners from a wide variety of backgrounds who meet every two months in the Village Hall.
The next meeting of the Walton Parish Council will take place on Tuesday 4th May 2021 at 7:30pm in the Village Hall, COVID restrictions permitting.
Coronavirus: Help within the Walton community is available.
Check out the news page and the social events page for details.
Information about help available in the wider area and updates about changes to local services are available on this COVID-19 page.
This website is provided by the Parish Council to inform parishioners and other interested parties of the work the Parish Council is doing and is a supplement to the noticeboards and parish newsletters. We are always interested in parishioners' points of view; please contact us if you have any comments on either the work we do or our web site.